It's time for the Millennials to move over a bit as Generation Z arrives on retailers' doorsteps.
As digital natives, those in Generation Z (everyone born after 1995) have grown up in the online universe, where they establish relationships not only with family and friends, but also with brands. Their shopping habits differ from those of older Gen X and Y consumers, and they present new challenges for the retailer.
Generally, Gen Z consumers are known to be a little impatient (thanks to the instant gratification expectations set by the online world), are seamless multi-taskers across devices and apps, have fairly short attention spans, and are quick to change products and services if they're not up to standard.
Knowing and understanding these unique traits puts you in a good position to offer authentic and successful shopping experiences for this select.
Travelling the path to purchase
Gen Z shoppers tend to take their time making a purchase, with a substantial amount of effort designated to 'aspirational browsing', as defined by FITCH, a leading retail and brand consultancy.
This term refers to the gap between seeing and buying, when Gen Z look to connect with a brand and establish a relationship - all prior to their purchase. FITCH's research found Gen Z consumers have a certain sequence to their shopping experience.
Finding out is when the Z customer identifies potential purchases via social media and the real world, and when the retailer needs to be visible across all touch points online and off.
Browsing is completed online and in-store (most likely with a group of friends), where the Z customer researches prices and collates information. At this point, the retailer needs to be accessible via all channels, and with the right information available.
Decision making involves gathering peer approval for the purchase and tracking prices, with the retailer needing to provide reassurance their brand is the one to choose.
The buying stage is hugely dependent on pricing, and the Gen Z consumer is typically savvy yet cash-poor, meaning they are looking for value and a bargain.
Showing and telling is important in the life of a Gen Zer, especially when a successful purchase is made. This exposure is usually through the various social media platforms, with brands benefiting when they make this a simple process for the customer.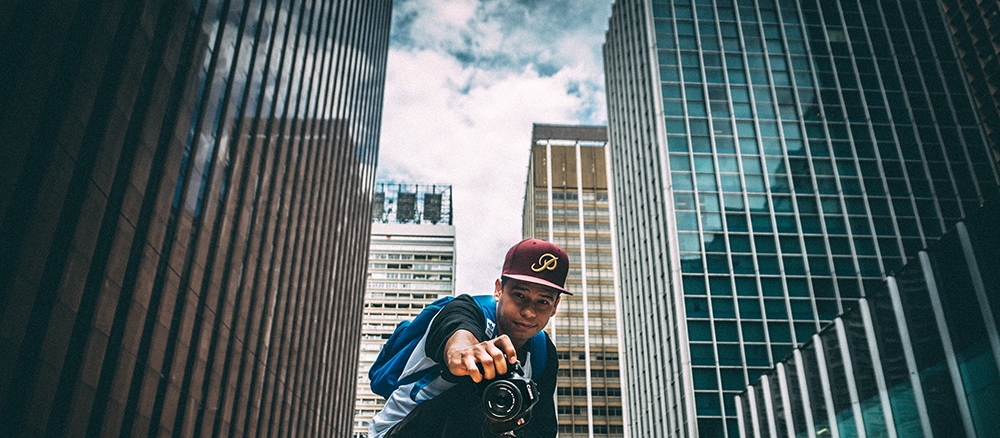 Four ways to sell to gen z
According to the AMP Capital's report, From A to Gen Z: Shopping with the Future Generation, there are several areas where Generation Z requires a slightly different approach to their older counterparts.
Bricks-and-mortar is still relevant
The research showed 87% of Australian, and 77% of New Zealand Gen Z consumers enjoyed shopping in-store. AMP suggests maximising the in-store experience by making shopping a social event with creative solutions such as Snapchat filters, in-store photo booths and workshops which can be attended with friends.
A unified experience
Gen Z people take the notion of the 'unified' shopping experience to the extreme, moving seamlessly between online and in-store when researching and purchasing. They're also likely to continue researching on-the-spot in-store using a device or kiosk. Therefore, it's useful for the Gen Z customer to be able to check stock levels online, with 83% saying this feature is definitely a plus in a webstore. Retailers can impress by aligning in-store and online offerings, and having in-store offers which reflect online behaviour.
Be authentic
The Gen Z customer wants their purchase to really mean something, not just to them, but also to the world. Global issues, ethics and sustainability are all important to this group, so they are more likely to purchase from brands that reflect and support their own beliefs. As a retailer, supporting charities and environmental causes give more than just the feel-good factor, it also shows an investment in the future world in which Gen Z consumers will be living.
Gender balance
The Gen Z male is not one to shy away from shopping, unlike the older generations. In fact, the AMP research showed that these men are keen to stay ahead of popular trends, take an equal interest in purchasing online and in-store, and enjoy shopping with friends rather than alone. Almost 60% of male Gen Z shoppers said the in-store welcome and greeting is important to them, so certainly don't ignore this group of future shoppers.
Connect with your Gen Z shoppers right now
The Infinity unified commerce platform centralises your customer and inventory data so you're ready to provide the shopping experience Gen Zers are looking for:
Allocate inventory in real time based on demand for a new product, the change in retail season or geographic location. This inventory optimisation helps you increase revenue and maximise sales opportunities.

Share inventory details with customers in real time so they can see which stores carry the item they want, then purchase by either visiting a store, ordering online or using a click-and-collect combination.

Infinity gives you a single view of customer data that's viewable online and at each POS. So you can create personalised offers and loyalty experiences based on what they almost bought, what they purchased in the past and what they might like to try. And greet them online and in-store in a more personal fashion.
A flexible platform for all your various customer needs